VPN for Crunchyroll: unlimited anime streaming without country restrictions
The American video streaming platform Crunchyroll.com offers its users over 1,000 anime shows, around 80 manga titles, and 200 Korean doramas. It is known and loved all over the world. But there are several problems that spoil the experience for Asian culture fans. A number of these problems can be settled with a single solution.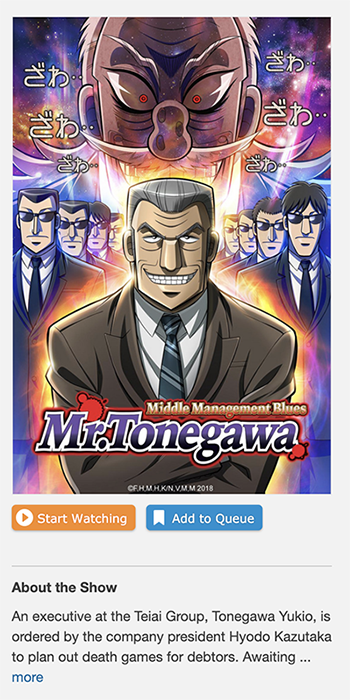 A screenshot of a show available on Crunchyroll
Crunchyroll: the problems
The unlimited access to this library requires a paid premium subscription. However, even after you have paid for quite a pricey membership, you might not receive the full access it promises. Some shows are not available in certain countries due to copyright and licensing issues. A show may be banned by the government of a country for non-compliance with the national idea.
For example, Tokyo Ghoul, one of the most popular and best selling mangas of all times, has been banned in China. The government got concerned that it encouraged a dangerous trend of people sewing threads and embroidery into their skin. High School DxD is forbidden in New Zealand as "sexually exploitative of young people".
Besides, many internet service providers and wireless operators try to limit the speed of streaming video in the attempts not to let people use too much data. It is called
throttling
and is not limited to videostreaming. Some ISPs throttle the traffic used by torrent trackers. People experience it by uploading backups, or downloading large amounts of data. Some ISPs were caught throttling the traffic from Netflix and Youtube, Twitch and Facebook Live, and the traffic from Crunchyroll.
Actually, a research made by a team from the University of Massachusetts Amherst in 2018 showed that nearly every provider in the US employs throttling.
And there is another problem: you can find yourself connected to a network where certain websites are prohibited. It may be your office network, a library, a school, a university. Network administrators sometimes get carried away with power and filter websites that are useful for work or do not prevent people from being productive.
But there is a way to deal with all these troubles.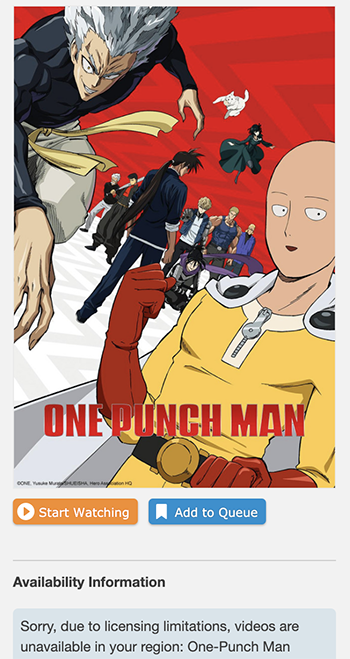 A screenshot of a show on Crunchyroll not available in the current region due to licensing limitations
VPN: A solution
A virtual private network is a means to use the internet securely and more freely. It provides a private tunnel between a user and the internet and encrypts the data sent between them. A VPN service can be considered an actual "Crunchyroll unblocker".
There are a lot of VPN providers, but not every VPN is capable of dealing with Crunchyroll. Its developers are aware that there are VPNs and have declared war on these services long ago. Besides, you need a really fast VPN, it depends on the number of servers its provider owns and uses in the network.
The solution: rules of choice
The checklist for selecting a VPN for Crunchyroll streaming or other demands:
big server network: not only the amount of servers matters but also their geographical distribution.
advanced encryption algorithms: they prevent VPN from being detected.
good reputation of the provider, positive user feedback, and reviews.
the support of an exact service you need. If developers have tuned their solution to provide the perfect access to Netflix or YouTube, they mention it on their website.
additional features. Some VPN providers also block ads.
prices and other terms and conditions.
And yes. Prices. There are free VPNs, but their providers have to earn somehow. Usually, free plans for VPN subscriptions offer limited traffic volume, location choice, or they can simply harvest your data and sell it to advertisers and scammers.
By using AdGuard VPN as a "Crunchyroll unblocker" you hit several birds with one stone: bypass censorship, bypass content geoblocking, make sure your private data is safe, prevent providers from limiting the traffic.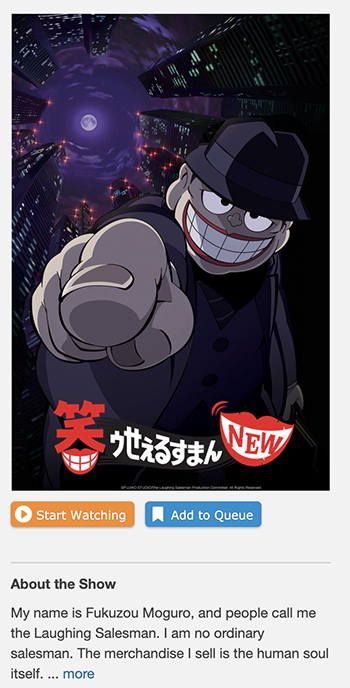 A screenshot of a show available on Crunchyroll
Choice been made: how to use AdGuard VPN for Crunchyroll
At
adguard-vpn.com
you can download an application for Windows and MacOS, an extension for browsers Chrome, Edge, and Firefox, or a mobile app for iOS and Android. Install the chosen application following the guides.
A browser extension is sufficient for using videostreaming websites, but the desktop application has much more functions from the support of all the browsers and applications on your device to ensuring the security of your connection.One of the most useful functions is Kill Switch. If you enable this feature, you'll get additional security: it blocks the internet connection if any problems with VPN are detected. Thus, you stay online only while you are sure to be protected. It wouldn't be necessary when you use VPN for Crunchyroll streaming or some other activity not involving your personal, financial or other sensitive data, but can save you a lot of trouble in other cases.
Why AdGuard VPN
AdGuard has been developing security and privacy protection software for more than 10 years and has over 25 million paying customers. You can trust our solutions.
Besides, there are several unique technological solutions including our own VPN protocol that disguises the use of a VPN. It makes it much harder to track and block our VPN.
AdGuard offers a flexible setup of exceptions: make a list of sites and choose one of the modes, regular mode, or selective mode. In the regular mode VPN works for all sites except for those in the list. In the selective mode -- only for those in the list.
Auto-protection, if enabled, switches to VPN automatically when you connect to an insecure network, for example, public WiFi. And just as a cherry on top, AdGuard VPN has dark mode.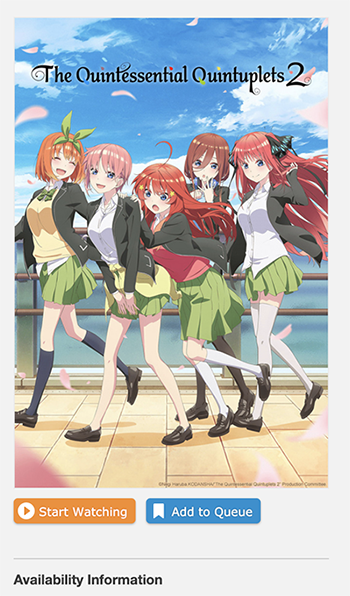 A screenshot of a show available on Crunchyroll
FAQ
Does VPN work with Crunchyroll?
Several VPN services get detected on Crunchyroll, their users might be banned from the site. AdGuard VPN uses progressive encryption to disguise itself in the traffic.
How to use VPN on Crunchyroll?
Just download the app for your device at adguard-vpn.com, install, and set it up. You will probably have to choose which servers to use in order to get access to Crunchyroll's shows not available in your region. Present yourself as a citizen of the US or Canada and enjoy the increased variety.
Can you get banned from Crunchyroll for using a VPN?
It happened to some people but AdGuard VPN knows how to work discreetly.
Is VPN illegal?
VPNs are illegal in Iraq, Belarus, and North Korea, for example. There is nothing criminal about a VPN itself, but, just like knives or computers, it can be used for illegal activities. VPN for Crunchyroll cannot be considered illegal.