AdGuard VPN
Special early-bird prices
52 Locations Worldwide
Access to any content
Strong encryption
No logs policy
Fastest connection
24/7 support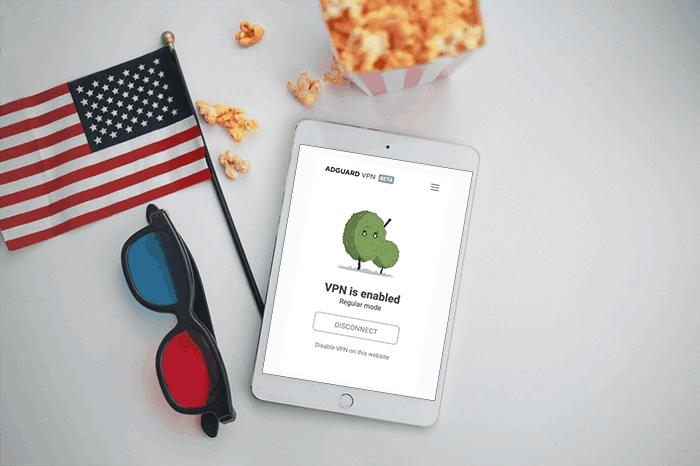 Why would I want a U.S. IP?
Discover the New World of Streaming Content
Having trouble accessing some US content due to location restrictions? Yeah, it's called geo-blocking and honestly speaking – nobody likes it. How come you can't watch some American TV-Shows, news or series/movies without having a U.S. IP address? Fortunately, you can get one and unlock all your favourite programs! Thanks to AdGuard VPN american servers it is now possible to stream whatever you want from any corner of the globe! More than that, our pro version offers unlimited bandwidth to get you premium connection speed you deserve!
Manage your personal bank/social account safely
The government has strict regulations concerning local banking or social online services. When you try to log in your account from an unusual location outside the US you are most likely to be banned and access denied. AdGuard VPN is a feature that can solve this issue in no time by connecting you to US VPN and getting you an american IP address. Mind your own business in complete privacy. We make sure that your sensitive information won't be subject to tracking or surveillance and no internet spy could lay hands on it. Especially in public networks.
Special Offers, Sales, Discounts
Why do we love America? For the best movies, TV-series and hit music, and of course for its freedom! But not only that! Season sale, summer sale, hot discounts, special offers, Black Friday – you name it! American people just love to buy at large discounts! Discover the true spirit of American sale! All you need now is AdGuard VPN. Choose the american server you want from the list of locations and tap connect. All set, you now have the United States IP address!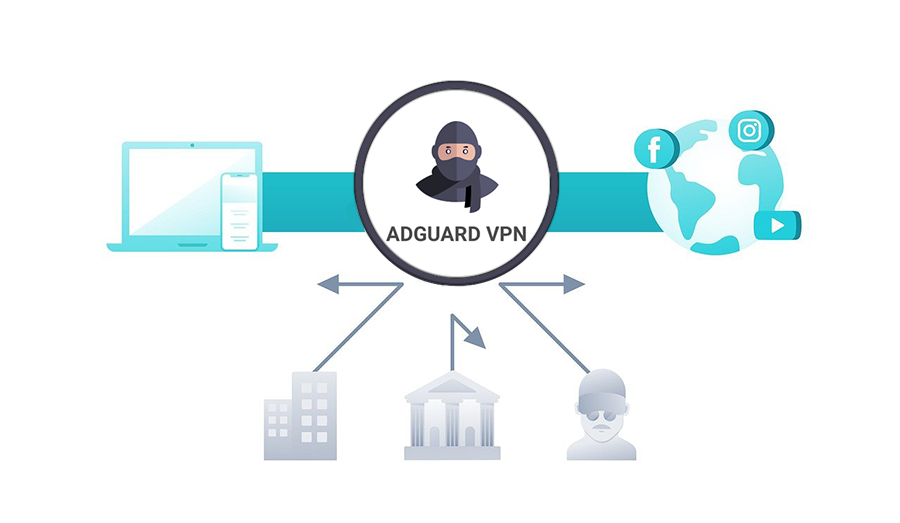 How do I get an American IP Address with AdGuard VPN?
Laptop or PC
Step 2.
Add AdGuard VPN browser extension to Chrome or Firefox.
Step 3.
Turn on the extension and connect to one of American servers to get US IP.
Smartphone or tablet
Step 2.
Install AdGuard VPN on your device.
Step 3.
Open the app, sign in. Choose one of many US server locations, tap on it. Well done.
FAQ
Is using VPN good for safety?
Yes. VPN routes all your traffic through an encrypted tunnel so that nobody can intrude your privacy. In fact VPN increases your internet security.
Does VPN reduce connection speed?
Not really. However you should check the ping of the location you want to connect to. The lower is the number the faster is your connection. Btw, our pro version offers unlimited speed or bandwidth.
Why would I want a different IP Address?
Plenty reasons: to avoid surveillance, stay anonymous or bypass geo-blocking. Always protect yourself: in or outside the US! VPN – better safe than sorry!
Is VPN legal in the United States?
One hundred percent! In the USA there is no law that prohibits VPN usage. There are many american servers to choose from, just pick up a location!
52 Locations Worldwide
From Americas to Australia, from Europe to Asia. 52 locations, with plans to add more soon. All to guarantee the best response times and maximize your convenience.
Australia
Austria
Belgium
Brazil
Bulgaria
Cambodia
Canada
Denmark
Egypt
Finland
France
Germany
Greece
Hong Kong
India
Ireland
Israel
Italy
Japan
Luxembourg
Netherlands
Norway
Philippines
Poland
Romania
Russia
Serbia
Singapore
South Africa
South Korea
Spain
Sweden
Switzerland
Taiwan
Turkey
Madame, Monsieur,
je souhaite annuler mon abonnement VPN .
DAGUEBERT CHRISTIAN
A fast and stable VPN.
Unlike many VPN add-ons this one has a selective mode where you can specify the websites you want to connect using the VPN. Very nice!
Is and has been fairly good up until lately. Has drastically slowed down and other various issues have been insuring as the late. With my other lifetime Dpn. Has semi been in beta stages. But yes ADGUARD all in all I love.
连上了网速飞起
界面简洁,使用方便,速度快,试用后体验很好,订阅了一年
отвратительно!!кпил на год!! и вот сижу опять, дестый раз за эту неделю, АКТИВИРУЮ то что уже купил!!!
я женщина пожилая и мне это в радость помогает легко включать и выключать очень хорошо работает
Very bad. Only Luxembourg location is active from China. Other locations are displayed not available. Please fix it. Where is the privacy...
Works very well and easy to switch on and off and choose location. Thanks for a great product.
Write a review
New review
Rate AdGuard VPN
Your review has been sent. Thank you!