Install AdGuard VPN on your router to secure your entire network. Decide which devices to protect and when
This option is only available with an AdGuard VPN subscription
How to set up a VPN on your router
The configuration process is simple — follow these steps to set up AdGuard VPN on your router.
Make sure your router supports IPsec
Subscribe

Confirm your email address — you'll need it to access your AdGuard account and get your credentials

Get your credentials

Under

Devices

, click

Add router

Select the desired VPN server location and generate credentials

Set up your router

In your admin page, go to the router settings

Enable

VPN Client

and click

Add VPN server

Enter the credentials

you created in step 2

Connect devices

to your router
Now that we've covered the topic of how to set up a VPN on your router, you're ready to protect your devices, ensuring both convenience and complete privacy through the VPN connection.
Benefits of AdGuard VPN on your router
Install AdGuard VPN on your router to boost your security. All the devices you want to connect to your network will be secured through a VPN-protected router. If you're wondering how to set up a VPN on a router, you can easily do so with an AdGuard VPN subscription.
AdGuard VPN offers the opportunity to secure your entire network by installing it directly on your router, providing double coverage with VPN protection. Our guide shows you how to set up a VPN on a router, so you can protect multiple devices, including those that don't typically support VPN software like PlayStation, Apple TV, and other gaming or streaming consoles. With AdGuard VPN's flexible subscription, you can prioritize different devices based on your needs, ensuring you have the power to control your VPN functionality.
Keeping your online activities private is crucial. With AdGuard VPN on your router, you can rest assured that neither your VPN provider nor any prying eyes will have access to your Internet activity. Your devices will stay under strong VPN protection.
Five reasons to choose AdGuard VPN
Proprietary protocol

AdGuard VPN uses a unique VPN protocol for a fast VPN connection and unmatched user security, making it an outstanding VPN brand

Military-standard encryption

AES-256 encryption and tunneling ensures the highest encryption standard and the fastest VPN connection, protecting your information from potential breaches

Multiple server locations

AdGuard VPN offers numerous VPN server locations and unlimited bandwidth for secure and fast streaming using VPN-supported routers

Money-back guarantee

If AdGuard VPN does not work for you, enjoy our 30-day money-back guarantee

Apps for all platforms

In addition to AdGuard VPN for routers, we offer apps for multiple platforms to ensure a consistent and secure experience across all your devices
Protect your privacy with AdGuard VPN
We offer you a VPN that guarantees
uncompromised privacy protection
and
traffic security
— be sure you get the best free VPN service available.
Invisible & fast
Most VPN services aren't perfect and have similar problems. Stand out with AdGuard VPN — we took it one step further and developed our own VPN protocol for you to enjoy fast and anonymous browsing. Experience top-notch protection with our exceptional VPN service!
65+ locations
We offer a wide range of VPN servers — hide your IP address and enjoy the added security and privacy of an encrypted VPN connection. Choose the server with the fastest speed and surf the Web securely with your VPN-supported router!
Stream & chill
The best way to spend your evening is to watch a streaming service and chill. And with AdGuard VPN, a reliable VPN provider, you can watch anything anywhere.
No-logging policy
We respect your privacy and prove it with our zero-logging policy. By using a VPN-supported router, you'll have the best privacy protection. If we don't know what you're doing online, no one does.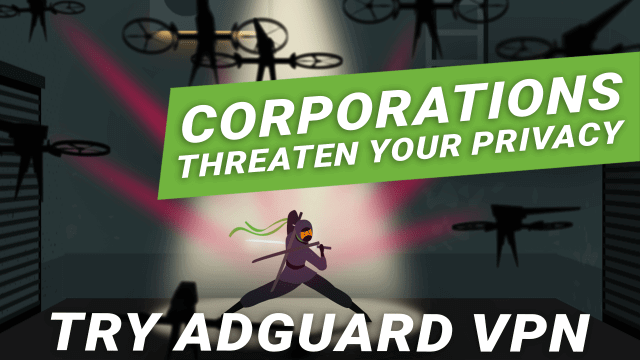 The reason you'd want a VPN on your router is for network-wide online security. Once AdGuard VPN is installed and configured on your router, all connected devices benefit from VPN protection, even smart home devices that don't normally support VPN software.

Simply connect your router to AdGuard VPN and follow our simple

3-step guide

on how to install a VPN on your router.

No, you need a paid AdGuard VPN subscription to use AdGuard VPN on your router.
To select a VPN server, log in to your

AdGuard account

and pick a location when creating your credentials. To change the server location, re-create the credentials in your AdGuard account for the new server and re-enter them on your router admin page.

A VPN router creates an encrypted VPN connection between a device and the Internet, ensuring privacy and security for your entire network connected to the router.
Windows
Mac
iOS
Android
Browser extension
Windows
Mac
iOS
Android
Browser extension
AdGuard VPN for mobile
Scan to install AdGuard VPN on your mobile device
AdGuard VPN for mobile
Scan to install AdGuard VPN on your mobile device