Windows
Mac
iOS
Android
Browser extension
Windows
Mac
iOS
Android
Browser extension
Protect your privacy with AdGuard VPN
We offer you a VPN that guarantees
uncompromised privacy protection
and
traffic security
— be sure you get the best free VPN service available.
3 GB each month
Get to know AdGuard VPN with 3 GB of free VPN traffic monthly. And if you want more, we'll show you how.
In-house VPN protocol
AdGuard VPN's proprietary protocol is a standout feature we're proud of. It makes your traffic inconspicuous, maintains a reliable and fast connection, and is one of a kind.
Lists of exclusions
What if you want to use your VPN only for specific websites or even apps? AdGuard VPN has flexible exclusion lists to grant you total control over your web experience.
No-logging policy
We respect your privacy and prove it with our zero-logging policy. If we don't know what you're doing online, then nobody does.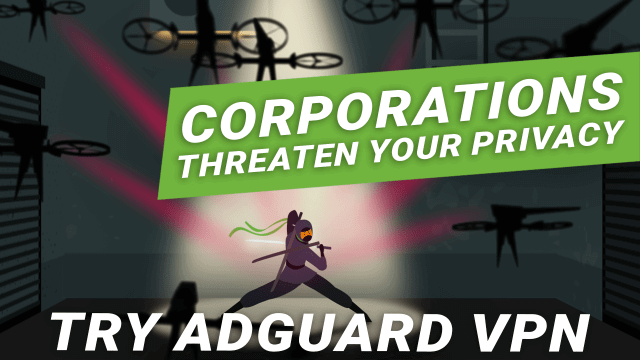 Auto-protection
We designed this feature specifically for unsecured networks. Now you'll never forget to enable VPN when visiting public places. Should you pop into a coffee shop and connect to a local Wi-Fi network, you'll get automatically connected to AdGuard VPN.
Kill Switch
Never expose your data or online activity, especially when connected to public Wi-Fi. Kill Switch shuts down your Internet connection the moment your VPN tunnel gets disconnected.
DNS servers
Another plus point — you can add any DNS server you like. Choose a reliable DNS provider and prevent your ISP from abusing your browsing history. Some DNS servers also block ads, trackers, malicious websites, and adult content. AdGuard VPN will protect your web traffic and tailor your online experience to your needs.
It's a match!
AdGuard VPN is the only VPN that works alongside AdGuard Ad Blocker. Get double protection — free the Web from ads and trackers and browse anonymously.
Read more about AdGuard VPN's unique features or find it out in practice —
download our free VPN app on any platform or device and start surfing anonymously.
Read more
FAQ
A virtual private network (VPN) is a technology to protect personal data on the Internet. It helps you remain anonymous and unnoticed by replacing your device's IP address with the address of a selected VPN server. For example, if you connect to a VPN server located in Germany, it will appear to websites that you are browsing the Web from that country.
To do so, it creates a tunnel — a secure VPN connection between your device and a server. In the tunnel, your data is encrypted so that no one can access it — neither your ISP, attackers, or corporations, nor even the developers of the VPN service.
AdGuard VPN is a VPN provider you can rely on: we securely encrypt your data to make sure nobody has access to it. Moreover, we have a
strict no-logging policy
— we don't collect or share your data with anyone. If we can't eavesdrop on your online activity, then nobody can.
AdGuard VPN is not completely free: it has a free and a paid version. We offer a free VPN service to let more users get to know our brand. The money from subscriptions goes to upgrading the product, maintaining the server network, and renting multiple servers.
Read here
why you shouldn't trust completely free VPN services.
Our free plan is a great way to explore AdGuard VPN. It gives you 3 GB of free VPN traffic each month and opens access to 10 server locations around the world. The free VPN also allows you to use up to 10 devices simultaneously.
However, a free version has certain limitations: the VPN speed is capped after the monthly data limit is reached, not all locations are available, and you cannot connect to streaming servers. If you want to use a VPN without restrictions, try our paid plan:
Unlimited bandwidth
No speed limit
65+ locations
Up to 10 active devices at the same time (no matter how many devices are logged in)
Streaming support
More than 9000 app reviews!
We love our users and they love us back.
New review
Leave feedback
Your review was sent successfully. Thank you!
By online privacy experts
Over 70M users chose AdGuard
Upgrade to AdGuard VPN Unlimited
Use AdGuard VPN free of charge or get ultimate protection
with AdGuard VPN Unlimited — see what it has to offer:
65+ locations

6 continents and dozens of countries. Choose a city and surf the Net safely!

Unlimited speed

No speed caps. Get the most out of your service provider!

Unlimited data

The only limit is that your data is never shared. Surf to your heart's content!

Up to 10 devices

Connect all your gadgets to AdGuard VPN at the same time — or protect the entire family!
This could've been caused by a temporary technical glitch with the payment gateway or any other one-time issue.