High-speed VPN servers in Ukraine
Access Ukrainian VPN servers from any location Mask your IP address and surf the web anonymously Make no compromises with regards to your internet freedom Access your favourite content with an Ukrainian IP address even when miles away from home
53 countries

65+ locations

Unlimited speed
Switch your IP address to Ukrainian in an instant
1. Download AdGuard VPN 2. Tap 'Ukraine' in the VPN server location drop-down menu 3. The VPN will encrypt your connection, making it safe and secure 4. Cover long distances in a split second and browse the web risk-free
The following is what takes place when you link to a VPN server in Ukraine:
An encrypted channel connects you to a VPN server in Ukraine and your internet traffic moves through this channel to the Ukrainian VPN server. This makes it impossible for your ISP, public Wi-Fi networks, and law enforcement in your country of residence to access the content of your traffic and the websites you explore. Your internet traffic reaches the Web through a VPN server situated in Ukraine. To external online platforms, such as streaming services (Netflix, Hulu, Amazon Prime, HBO, Disney Plus) or YouTube, you seem to be in Ukraine. Traffic destined for you first reaches the VPN server in Ukraine and is then delivered to you via an encrypted channel, bypassing all means of tracking.
Here's what you need to know about what happens when you use a foreign VPN server from Ukraine:
You connect to a VPN server in another country, and your Internet traffic is sent to it through an encrypted channel. As a result, your ISP, public Wi-Fi networks, and any possible censorship tools in Ukraine cannot read or interfere with your traffic. Websites and streaming platforms such as Netflix, Hulu, Amazon Prime, HBO, Disney Plus and YouTube see you as being in the country of your VPN server, not in Ukraine. Incoming traffic is securely routed to you over an encrypted VPN connection. This eliminates potential interference from public Wi-Fi networks, ISPs, and censorship tools in Ukraine.
Disclaimer: This description is for informational purposes only. Its sole objective is to educate you about the technical principles of how a VPN works. It is not a guide and does not encourage any illegal activity, such as circumventing censorship, geo-blocking, or violating the laws of your country. We recommend that you check the terms and conditions of your service to see if a VPN violates them.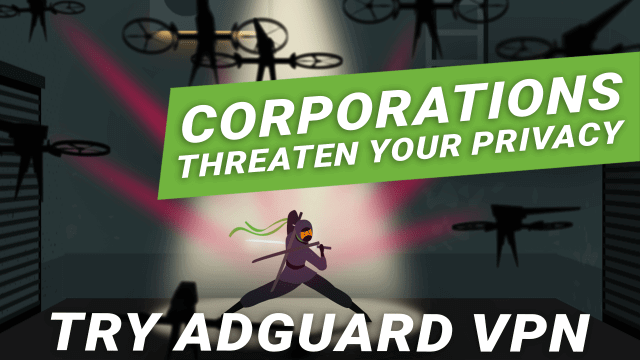 How do I choose the best VPN server in Ukraine?
If you main concern is how fast your internet will work, then select the fastest VPN server location in the VPN app or extension. It is usually safe to assume that the fastest server is the closest one to where you are. If you are looking for the best VPN server to hide your location, then you can choose from 40+ countries and 50+ locations once you get the AdGuard VPN subscription. If you need a server that would simply protect your anonymity, then any server will be a match for you.
Explore our VPN locations
Check out the list of our VPN servers. We regularly add new locations and update the server list. Keep in mind that the further away a server is from you, the longer it usually takes to respond
Reasons to get VPN in Ukraine
Once you arm yourself with a VPN, advertisers, data brokers, governments, and even your Internet service provider (ISP) will remain in the dark about your browsing activity. Binge-watch your favourite shows and download (legal) content using a VPN in Ukraine, while your real IP address remains hidden. Enhance your security with a VPN: encrypt your traffic and shield your private information from hackers on public Wi-Fi networks. Connect to VPN servers to access your favourite websites even from abroad. Save on flights, hotels and online shopping by avoiding location-based pricing with the help of a VPN.
How to change an IP address to Ukrainian?
It won't take you long: 1. Download an AdGuard VPN app for Windows, Mac, Android, or iOS. Alternatively, install AdGuard VPN Browser Extension for Chrome, Opera, Firefox, or Edge. You can also set up your router using the credentials from your AdGuard account 2. Enable the VPN for browser or click the Connect button to activate it in the app 3. Open the server location drop-down menu and select 'Ukraine' there You're ready to get started!
What are the advantages of AdGuard VPN?
Thanks to our proprietary protocol your VPN traffic will not raise any flags with Internet service providers and firewalls, as it appears to them just like regular traffic You and only you choose where your VPN works. You can exclude any sites from the VPN tunnel, or vice versa, use AdGuard VPN only for selected domains Thanks to the Kill Switch feature you can rest assured that even if your VPN connection drops for any reason, your data will not be compromised: once the VPN connection fails, your device will be unplugged from the internet We have always been very serious about all things privacy, which is why we do not store your logs in accordance with our strict no-logs policy. We care about your privacy and honor your trust
Try AdGuard VPN without risk with a 30-day refund guarantee
You will receive a full refund within 30 days of purchase for 1-year and 2-year VPN subscriptions bought through our website https://adguard-vpn.com/ For refunds on subscriptions bought from other sellers, see the seller's refund policy
Windows
Mac
iOS
Android
Browser extension
Windows
Mac
iOS
Android
Browser extension
FAQ
A virtual private network (VPN) encrypts your traffic and tunnels it through a server of your choice. It stops third parties, such as trackers, governments and Internet service providers (ISPs), from spying on you, keeping your browsing habits in secret
Yes, your Internet connection might become a bit slower, but it not necessarily will be the case. You might not even notice the difference, because it is usually negligible. You may also want to check the location's ping before connecting to the server. The lower it is, the better
Largely, yes. If you connect to a public Wi-Fi network, your traffic is vulnerable to interception. But since your data is encrypted, it's impossible for attackers to read it
It sure will. The primary goal of any VPN is to ensure your privacy and security by walling off your online activity from Internet service providers, trackers, and governments
You can get a free IP address with AdGuard VPN. There are certain limitations if you use it in free mode with caps on speed, traffic, number of servers and devices. If you want to have unlimited VPN access, we advise you to check out our refundable subscription plans
When it comes to free VPNs, there are dozens of easily downloadable apps. However, we do not recommend you use a free VPN since some of them are notorious for sharing data with third parties. We at AdGuard put emphasis on user privacy. You can download AdGuard VPN for free from our website, and pay for premium features
You can choose an Ukrainian VPN in the location server menu once you have downloaded and installed either the AdGuard VPN app for Windows, Mac, Android, and iOS, or Browser extension for Chrome, Edge, Firefox, and Opera
Only if the VPN you use is leaky. As a rule, the government or the internet service provider should not be able to track your VPN
We cannot speak for the government of Ukraine. But we sincerely hope users will still be able to resort to VPNs to protect their privacy and anonymity in the years to come
Yes, it's legal to use a VPN in Ukraine. Nevertheless we advise you to be in the know of local laws, especially, when traveling
Subscribe to AdGuard news
Be the first to learn the latest news on ad blocking and privacy protection, AdGuard product releases, upcoming sales, giveaways, and more.
You've successfully subscribed
to AdGuard VPN news!
Subscribe to AdGuard news
Get news about online privacy and ad blocking, AdGuard product releases, upcoming sales, giveaways, and more.
Please check the email: it looks incorrect
You're subscribed
News, promos, and special offers: you won't miss out.
Total app rating 4.7/5
More than 9000 app reviews! We love our users and they love us back.
Good for years now and well

This is the only VPN that works consistently with iPlayer, that's a win in my book!

It works very well and I am satisfied with it

Everything is amazing i have adguard licence integration adguard app and vpn is great no slowness no crash nothing but price is so expensive and atleast you should give 5 gb vpn for those who purchased adguard app its my opinion.

سلام خوبه یک گیگ بده لامصب
New review
Leave feedback
Your review was sent successfully. Thank you!
Kuala Lumpur (Coming soon)
Las Vegas

Seattle

Dallas

Los Angeles

Phoenix

Denver

Silicon Valley

Atlanta

New York

Miami

Chicago
AdGuard VPN for mobile
Scan to install AdGuard VPN on your mobile device
AdGuard VPN for mobile
Scan to install AdGuard VPN on your mobile device
AdGuard VPN for mobile
Scan to install AdGuard VPN on your mobile device