.promo-banner--parallax { background-image: url(https://cdn.adguardvpn-help.com/website/adguard-vpn.com/welcome/welcome-banner-mobile.svg); } @media (min-width: 768px) { .promo-banner--parallax { background-image: url(https://cdn.adguardvpn-help.com/website/adguard-vpn.com/welcome/welcome-banner-tablet.svg); } } @media (min-width: 1024px) { .promo-banner--parallax { background-image: url(https://cdn.adguardvpn-help.com/website/adguard-vpn.com/welcome/welcome-banner-desktop.svg); } } @media (min-width: 1921px) { .promo-banner--parallax { background-image: url(https://cdn.adguardvpn-help.com/website/adguard-vpn.com/welcome/welcome-banner-hd-desktop.svg); } }
Enjoy your free VPN
Get 3 GB of fast VPN traffic each month, plus ways to get more.
Stay stealthy
Avoid VPN blocks with our unique technology.
Use it when you need it
Decide for which websites or apps your VPN should be on.
Protect your privacy
Be sure your data will never be collected or shared.
AdGuard VPN advantages
Enjoy your free VPN

Get 3 GB of fast VPN traffic each month, plus ways to get more.

Opens access to any content

Break through digital boundaries and access any content from anywhere in the world with ease.

Use it when you need it

Decide for which websites or apps your VPN should be on.
Windows
Mac
iOS
Android
Browser extension
Windows
Mac
iOS
Android
Browser extension
Get off the radar
Every big corporation and government sends its best drones hunting for your data. But you have the top-of-the-line gear to be two steps ahead: the unique AdGuard VPN protocol disguises you and makes you faster.
Teleport anywhere
You're no longer chained to your physical location. Move in the shadows, appear unnoticed in any part of the world (65+ locations available), and get unrestricted access to secret knowledge.
Join the clan
Thousands of other ninjas like you have already found freedom and peace of mind and expressed their gratitude: the 4.9/5 app rating says it all!
Total app rating 4.7/5
More than 9000 app reviews! We love our users and they love us back.
This Adguard VPN works! It really blocked advertising!

Good for years now and well

This is the only VPN that works consistently with iPlayer, that's a win in my book!

It works very well and I am satisfied with it

Everything is amazing i have adguard licence integration adguard app and vpn is great no slowness no crash nothing but price is so expensive and atleast you should give 5 gb vpn for those who purchased adguard app its my opinion.
New review
Leave feedback
Your review was sent successfully. Thank you!
Leave no trace
We rigorously follow the Ninja Code, our
Privacy Policy
, and the EU law. We do not record, collect, or share your data with third parties. If even we can't see you, then no one can.
By online privacy experts
Over 70M users chose AdGuard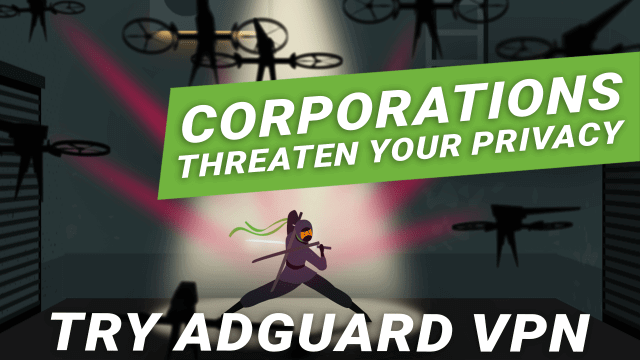 AdGuard VPN is a VPN service that allows you to hide your online identity by routing your traffic through a remote VPN server with a different IP address and location. It also adds an extra layer of protection by encrypting your traffic.

Learn more about VPNs

Proceed to the

payment page

and choose the plan that suits you best. We have 1-month, 1-year, or 2-year subscription options.

A VPN is a multi-purpose digital survival tool. You can use your VPN to:

Hide your real IP address, which reveals a lot about you (such as your true geolocation, comments on forums, and much more), and surf the web with added privacy

Shield yourself from snoopers & hackers on public Wi-Fi networks from accessing your files (such as messages and other private information)

Stream and download anything securely, anonymously, and with no limits

Get discounts when you shop online (local prices & special offers are sometimes more favorable)

The paid version offers several advantages over the free one:

AdGuard VPN can be used on up to 10 devices concurrently, compared to only 2 in the free version

More server locations are available

No speed limits, compared to 20 Mbps in the free version

Unlimited VPN traffic, compared to 3 GB per month in the free version

Historically, user privacy and safety have been AdGuard's top priority. It's backed up with 14 years of spotless reputation. It's inherently reflected in AdGuard VPN: we use our own fast and secure protocol and provide you with

unique privacy-focused features

.

We have subscriptions that are billed automatically once a month, year or two years, depending on your choice. If you have opted out of auto-renewing your subscription, you can renew it manually via your

AdGuard account

.

Note: Discounts applied to initial purchases do not apply to their renewals.

Yes! With the help of a DNS server. In AdGuard VPN settings, you can connect to a DNS server that best suits your needs. We recommend using AdGuard DNS: it blocks ads and trackers and protects you from malware.

Although AdGuard VPN can protect you from ads and trackers, it cannot guarantee the same level of filtering as a full-fledged ad blocker.

AdGuard Ad Blocker

removes ads from websites and apps, blocks analytics systems, and warns you if you're about to visit a dangerous website. Plus, it can be used together with AdGuard VPN, which is important for mobile devices.

Just use the same account to purchase another subscription: another month, year, or two years will be added to your current subscription term.
Best server locations differ depending on your reasons for using a VPN. See our suggestions below.

If you need a VPN strictly for anonymity, connect to the country and city closest to you.

For changing your location:

To hide your actual location, choose any other location you want.

Go to the Locations screen in the AdGuard VPN app or extension and select the Fastest option before clicking Connect to enable the VPN.

We offer our customers the possibility of a 100% refund of the purchase price of AdGuard VPN 1-year and 2-year subscriptions purchased from

https://adguard-vpn.com/

. For subscriptions purchased elsewhere, please check the refund policy of that particular reseller. For 1-year and 2-year subscriptions, we have a 30-day money-back guarantee. All refund requests for 1-year and 2-year subscriptions made within 30 days of purchase are granted regardless of the reason.

The corresponding subscription becomes inactive the moment the refund is issued. After 30 days of purchase, all requests are assessed individually, and the refund decision is made at the discretion of AdGuard Software Ltd. We do not grant partial refunds for subscription upgrades and renewals. Each case of a partial refund request is discussed separately between Customer and Support and granted only upon mutual agreement. To get a refund for a 1- or 2-year subscription purchased from the official website

https://adguard-vpn.com/

, please contact our support team:

support@adguard-vpn.com

.

Processing time will depend on the payment method you choose. Usually, it takes 5 to 10 business days.

AdGuard is a privacy-focused company that neither shares nor sells any of your personal data. We are proud to say that we fight for user privacy. We are strongly committed to this principle and strive to be as transparent as possible.

We do not store activity or connection logs of our users.

AdGuard VPN collects minimal information about the use of our services to identify and resolve technical issues. This information cannot be used to link you to any specific activity or behavior. For more information on what data we collect and exactly how we process it, please see our

Privacy Policy

.

You're probably reading this because you've encountered the warning "Maximum number of connections reached".

The paid AdGuard VPN subscription covers up to

10 simultaneous device connections

, while the free version covers only 2.

If you've reached the limit and still need to connect more than 10 devices, you can choose between two options:

Disconnect one of your devices from AdGuard VPN. To do so, press the Disconnect button on the corresponding device.

Yes, you can. There are two operation modes in AdGuard VPN. In General mode, VPN works everywhere except websites added to exclusions. And vice versa, in Selective mode, VPN works nowhere but on websites added to exclusions.

You can add websites to exclusions manually or choose among the lists of popular services. The lists are divided into eight categories: Social networks, Messengers, Video and Music streaming services, Games, Shopping, Search engines, and Work communication tools.

AdGuard VPN uses AES-256, the most secure and fast encryption algorithm to date. It is a block cipher with a symmetric key, which means that it requires only one secret key to encrypt and decrypt the data and divides data into blocks before encryption. AES-256 has a key length of 256 bits and is practically unbreakable by brute force based on current computing power.

Learn more about AES-256 encryption

Not necessarily. It is a good idea to check the ping rate of the VPN server before connecting to it. AdGuard VPN displays ping rates to help you choose the fastest server location. The lower the ping, the faster the connection.

Using a VPN is legal in most countries. So you have nothing to worry about. Of course, all our VPN servers are located in countries, where VPNs are 100% legal.

We recommend using a VPN when connecting to public Wi-Fi to protect your mobile device or computer from potential attacks. Security measures usually pay off when it comes to protecting your personal information.
Subscribe to AdGuard news
Be the first to learn the latest news on ad blocking and privacy protection, AdGuard product releases, upcoming sales, giveaways, and more.
You've successfully subscribed
to AdGuard VPN news!
Subscribe to AdGuard news
Get news about online privacy and ad blocking, AdGuard product releases, upcoming sales, giveaways, and more.
Please check the email: it looks incorrect
You're subscribed
News, promos, and special offers: you won't miss out.
Browse like a ninja
Windows
Mac
iOS
Android
Browser extension
Windows
Mac
iOS
Android
Browser extension
Kuala Lumpur (Coming soon)
Las Vegas

Seattle

Dallas

Los Angeles

Phoenix

Denver

Silicon Valley

Atlanta

New York

Miami

Chicago
AdGuard VPN for mobile
Scan to install AdGuard VPN on your mobile device
AdGuard VPN for mobile
Scan to install AdGuard VPN on your mobile device