Crypto: a new way to pay for AdGuard VPN subscriptions
We're proud to move towards even greater anonymity and accessibility for our users: now you can pay for AdGuard VPN licenses with cryptocurrency! We now accept Bitcoin, Ethereum, Litecoin, and Tether.
Cryptocurrencies are crucial for those who cannot use other payment methods: for example, in countries where international transactions are restricted. But there is more to crypto than that.
What a cryptocurrency is
Cryptocurrency is a means of payment that exists only on the Internet. It has no hard-copy expression and its value is not dependent of any government.
Cryptocurrency is built on a blockchain system — a chain of information blocks. They are used to transfer digital money from person to person without an intermediary. The first digital coin, Bitcoin, appeared in 2009. Since then, the number of cryptocurrencies has been only growing.
Benefits of cryptocurrencies
Compared to the usual currencies, crypto has several advantages:
Anonymous. To transfer funds, unique addresses are used. They are generated by the system for each transaction. Whereas crypto transactions are open and transparent, it's impossible to link the data to a specific person and their location. If you don't want to share sensitive data such as your bank card number or name, you don't have to.
Safe and secure. Cryptocurrencies are based on blockchain, where wallet or payment fraud is virtually impossible. Because information in each block is encrypted and the blocks are chained together, it would take too much time and power to hack the system. In order to hack one cell of information, a fraudster would have to change the encryption code of all the others.
Easy to send all over the world. There are countries where sending money abroad is hard, time-consuming, or sometimes even impossible. Cryptocurrencies make it easier to make transactions: to use a cryptocurrency, you only need a wallet and an Internet connection.
Because no one knows your identity or location, no organization or government can prohibit you from sending money. Which means that you can send crypto anywhere, from any point of the world.
How to make a payment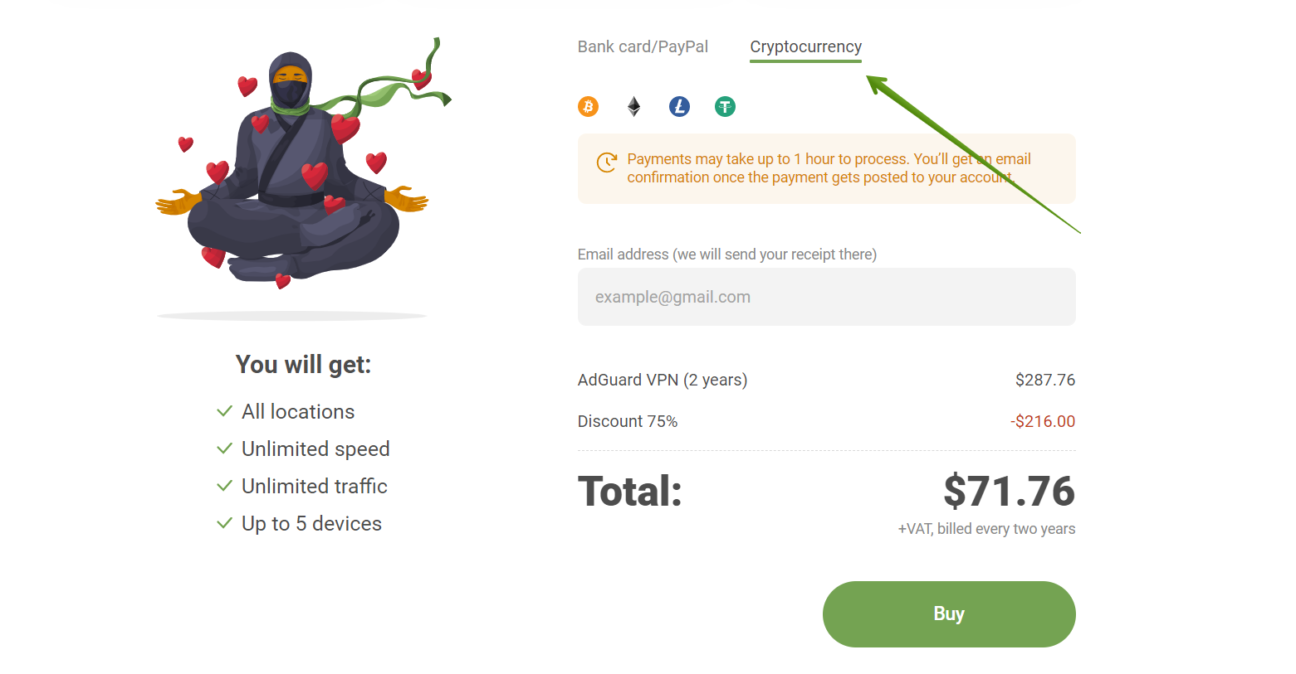 To make a payment, select a license type and choose cryptocurrency as a payment method. On the next page, select a specific cryptocurrency. You'll get the address of a crypto wallet to which you'll need to send the funds to. Usually, the payment is processed within 10-20 minutes after several confirmations by the network.
After the payment is completed, the confirmation will be sent to your email address.
Note: subscriptions purchased with cryptocurrency are not autorenewable.
Because crypto payments are anonymous, we cannot link your license with your payment credentials. To extend your subscription, you'll have to buy it again using the same email address.