The best AdGuard contributors of 2021
You may have wondered who the AdGuard team consists of and what kind of people create it. We are developers and QA engineers, designers and content creators, managers, and a support team, just to name a few. But our team is actually much broader than that, because we get a lot of support from the AdGuard community. Who are they? These are the people who like AdGuard and contribute to its development — translate the apps, extensions and websites into various languages, test beta versions, track down bugs and suggest new features, create filters and even write code.
We have a good tradition at our company. Every year we choose the most active members of our community, write an extensive blog post like this one, and reward the winners. And every year, when it's time to look back and sum up the results, we are surprised and excited by this inexhaustible source of energy, the people who help us.
You can see what it looked like in 2020.
Today we'd like to thank each person for their invaluable assistance. Each contribution, large or small, is appreciated. It's thanks to you that we're getting better! And traditionally, we've chosen the most active contributors and prepared nice gifts for them.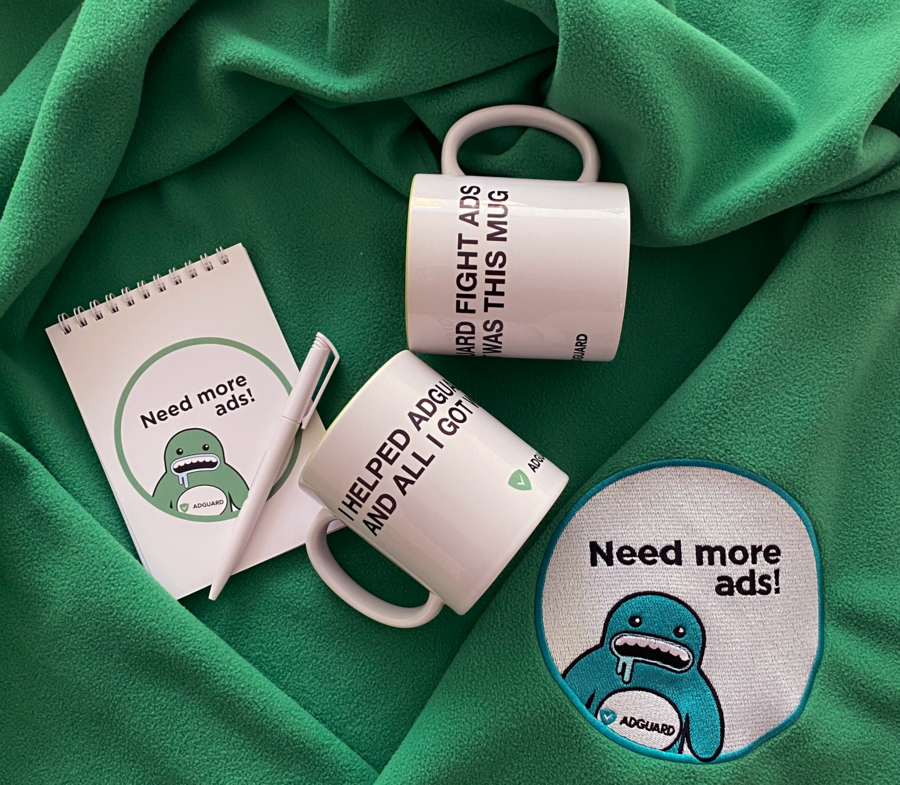 P.s. Some people on the list have proved to be the best contributors last year too and have already received the standard merch kit. To avoid sending them the same things, we'll give them our branded hoodies instead.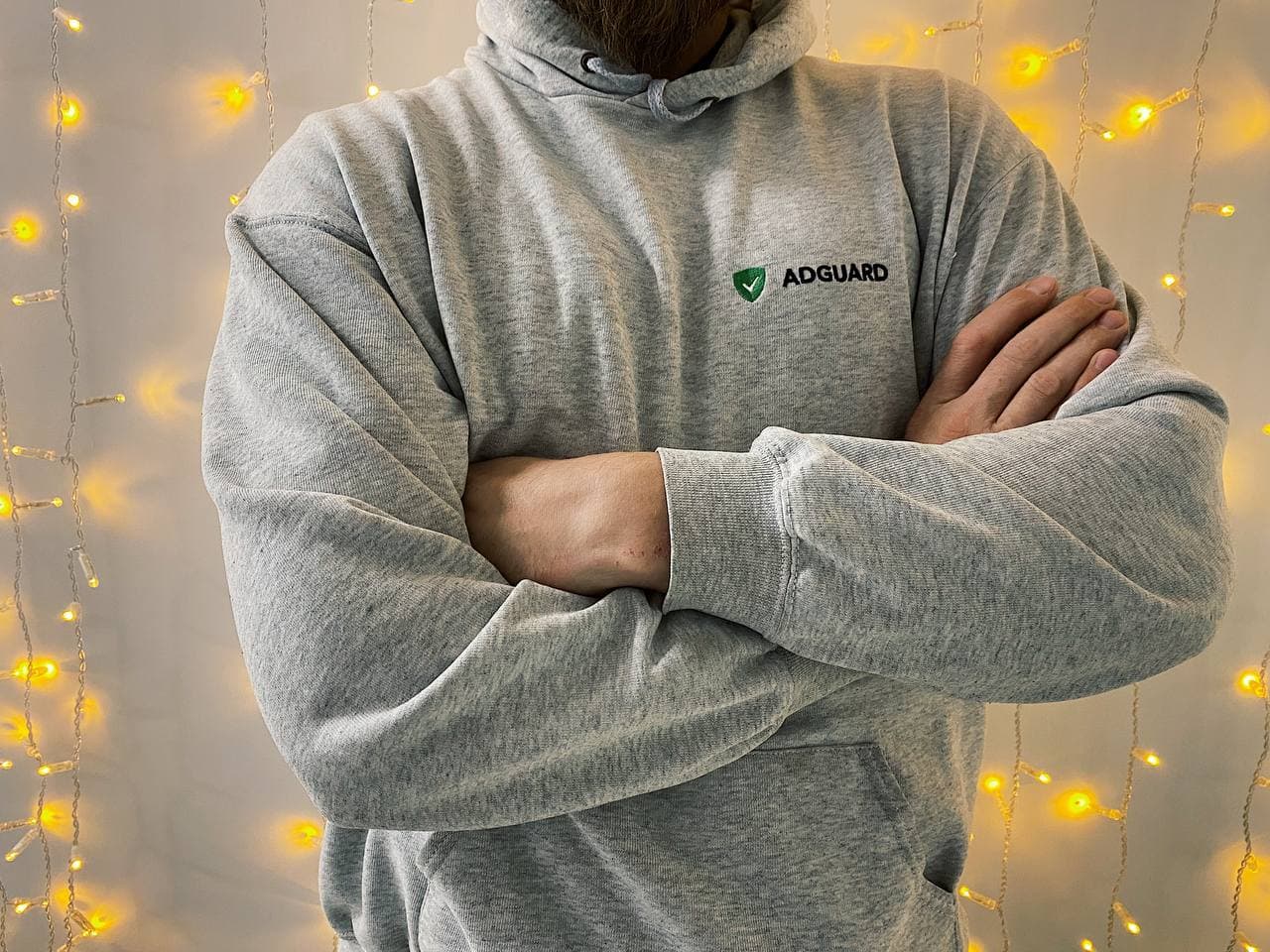 Of course, it wasn't easy to choose among so many people. We have sought to be objective and selected the winners based on their merits. Also, we've asked some of the winners to share what it means to them to be AdGuard contributors and why they do it so consistently. You'll find their quotes below.
So, are you ready? Let's unveil the list of the best AdGuard Contributors in 2021! Drumroll...
Top-5 Crowdin translators and proofreaders
Eduardo Addad de Oliveira (eduardoaddad), translator and proofreader to Portuguese and Portuguese, Brazilian
Participating in AdGuard translations in Brazilian Portuguese motivates me to know that translations are used by many people and also because it is an excellent program in terms of privacy.
NCAA, Danish translator and proofreader
I started using AdGuard years ago and came across some UI texts that either seemed illogical or that you needed to read them a couple of times to actually get the intended message. I started contributing to the AdGuard localization project to help iron out these small quirks in the UI texts.
From starting on just a single AdGuard product as a translator, my involvement gradually evolved to include all the AdGuard products that supported Danish, eventually ending up being entrusted with the role of the Danish proofreader across this product portfolio.
Hopefully, my contributions have helped Danish users become even more familiar with these great products, have benefitted not just the products, but, in their own small way, also the awesome AdGuard team.
Oskari Lavinto (olavinto), Finnish translator and proofreader
AdGuard provides great, ever evolving products for unwanted content filtering and the new VPN service is a good addition to that. I enjoy translating and I'm happy to support AdGuard by participating. Hopefully this helps make the software and services more accessible to Finnish users. Keep up the good work, everyone!
Görkem Emrah Güler (gork7777), Turkish translator and proofreader
I love contributing to AdGuard. I have been translating Turkish for a long time, I feel like at home, I enjoy working in this beautiful and comfortable place. Localizing products is important for everyone's own country because some of them don't know foreign languages, they wanna see their own languages and so I'm honored to help my country. Also everyone gets annoyed by seeing annoying ads, pop-ups and stuff like that, so I've also helped for filters too as much as I can and contributing makes me happy.
ION_IL, Hebrew translator and proofreader
I think that tools for privacy protection should be available in all languages so people all around the world could use those tools in their native language. Like many Hebrew speakers, I like using software in Hebrew so availability of AdGuard in Hebrew as a recognition seems like a great way to contribute.
Top-5 contributors to filters and code, beta testers and forum moderators
Yuki2718, contributor to AdGuard Filters
I started my contribution only to improve my friends' and family's experience, but now I'm helping many more users all over the world. This year I was invited as the first outside collaborator to AdGuard Filters, which allowed me to make many more commits.
This openness and close collaboration with community are what differentiates AdGuard from other ad-blocking companies. It's nice that the products you've helped develop are getting better, and more and more users get satisfied with them. The current online advertisement sucks, why don't you come here and fight with us?
Imre Kristoffer Eilertsen (DandelionSprout), filter maintainer, bug reporter, Norwegian translator
As someone who has become a veteran in adblocking by now (been in the industry since 2017), AdGuard is one of the Big 3 of adblocker tools that I am more than willing to help translate and to make lists for (3 of which are included in AdGuard as opt-ins). As for translating, it started when I realised the previous translations to Norwegian were of very poor quality and was in critical need of brushing up.
Boo Berry, forum and Telegram group moderator
A year ago I was honored to be named one of the best AdGuard contributors for 2020, and now it's nearly the end of 2021 and I'm proud to say that I'm yet again honored again to be named one of the best AdGuard contributors for 2021! I'm always glad to help out where I can here on the forums, in the Telegram chat, on Reddit, etc.
This year has been special, especially watching AdGuard VPN expand and grow. Testing various things for multiple AdGuard products, finding new bugs and reporting them, all of it is worthwhile to me and I'll continue to do so, 2022 and beyond! I can't wait to see what's coming in 2022, especially the new AdGuard DNS!
PiQuark6046, contributor to AdGuard Filters
As you know, big tech companies that follow surveillance capitalism want to track your online activities and store your personal information because they want to sell countless advertisements to make profits.
However, I always have a concern about their surveillance and cooperate their government (regardless of their government; Social Credit System and Golden Shield Project in China and PRISM in USA are basically same in terms of surveilling the citizens). AdGuard and other ad-blocker can block these surveillances mostly. That is why I have contributed AdGuard and made a giant mask to hide online activities.
Aikatsui, contributor to AdGuard Home and bug reporter who preferred to stay humble
Thank you for your help and congrats one more time!
We've contacted the winners to arrange the prizes' delivery. If you're among the lucky ones, we'll write you as soon as your gift bag is packed and sent. Please keep in mind that the current COVID-19 situation might cause shipping delays, but we'll do our best to carry your presents promptly.
P.s. If you're on the list but didn't receive a message from us, please write us an email at translate@adguard.com.
How do you become a contributor?
There are four most popular options:
JOIN ADGUARD
Every option is welcome. Localizing AdGuard products and/or websites to your native languages will contribute a lot to their availability. We'll appreciate your help, no matter what language you choose.
P.s. If you wish to, you can submit to add new locales that are not yet present – we will more than welcome this initiative.
And you will definitely help us become better if you beta test our products or come up with an idea of a filter.