Enjoy the fastest and the most reliable connection to any place in the world with AdGuard VPN for Windows.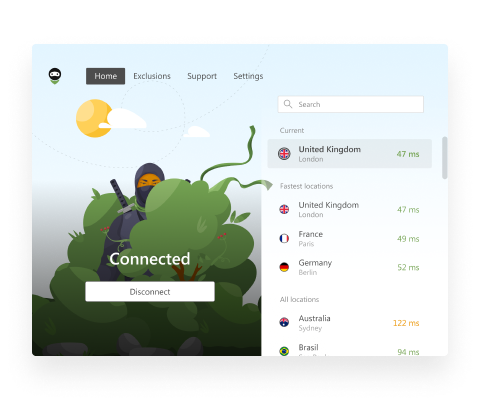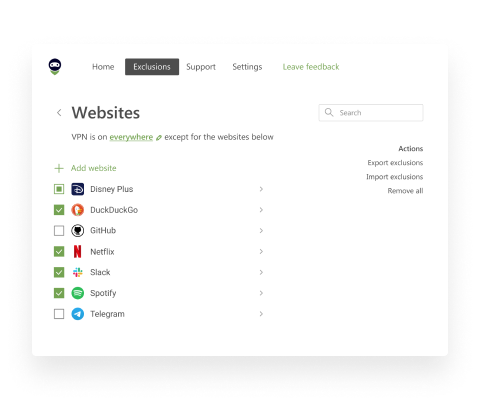 You were made for greatness
A step above all other existing solutions, the AdGuard's VPN protocol ensures fast and stable connection under all circumstances and unparalleled anonymity.
Manage websites...
Create your own web experience by excluding any websites from the VPN tunnel, or go the other way around and use AdGuard VPN only for a select number of domains.
Stay safe
With Kill Switch, your data is never in danger of getting compromised. The second the VPN server becomes unavailable, AdGuard VPN cuts off all network access.
Watch anything, anywhere
The inability to work with streaming services is the Achilles' heel of many VPN apps. Never mind them, with AdGuard VPN you can watch your favorite TV shows from all over the world.
...and apps alike!
Do the same for any applications. Don't feel the need to tunnel your Steam traffic, or maybe your Zoom meetings are already good as they are without a VPN? No problem!
Keep your speed up
Our cutting-edge QUIC protocol provides better speed and encryption compared to other protocols. Enjoy a stable and fast connection while using mobile internet or public Wi-Fi.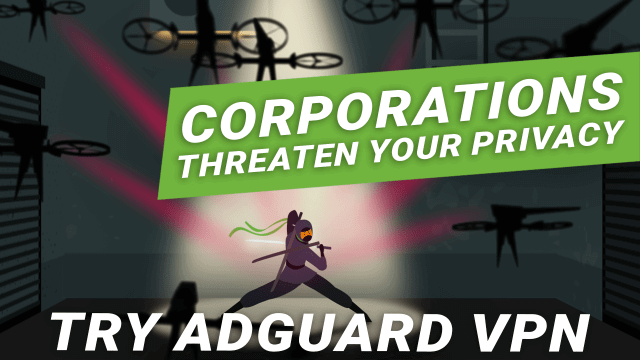 بیش از 9000 بررسی برنامه!
ما کاربران مان را دوست داریم و آنها ما را دوست دارند.
نظر شما با موفقیت ارسال شد. متشکرم!
Tons of servers
Close your eyes and think of any place in the world. We probably have a server there that's just one click away from you.
سیاست عدم ذخیره وقایع
We respect your privacy and prove it with our zero-logging policy. If we don't know what you're doing online, then nobody does.
Free VPN traffic every month
Still not sure if AdGuard VPN is for you? Take your time with 3 GB of free VPN traffic every month, with additional opportunities to get more.
Trustworthy VPN
We've earned the trust of tens of millions of users over the last 14 years, and we don't plan to stop there. Your data is in safe hands.
پرسش و پاسخ متداول
AdGuard VPN is a
virtual private network (VPN)
that is a secure tunnel between two or more devices.
Connecting to a VPN gives you an encrypted connection to the Internet. It allows you to stay private, remain secure, and access the online content you want — no matter where you are.
Proceed to the
payment page
and choose the plan that suits you best. We have 1-month, 1-year, or 2-year subscription options.
A VPN is a multi-purpose digital survival tool. You can use your VPN to:
Hide your real IP address, which reveals a lot about you (such as your true geolocation, comments on forums, and much more), and surf the web with added privacy
Shield yourself from snoopers & hackers on public Wi-Fi networks from accessing your files (such as messages and other private information)
Stream and download anything securely, anonymously, and with no limits
Get discounts when you shop online (local prices & special offers are sometimes more favorable)
The paid version offers several advantages over the free one:
AdGuard VPN can be used on up to 10 devices concurrently, compared to only 2 in the free version
More server locations are available
No speed limits, compared to 20 Mbps in the free version
Unlimited VPN traffic, compared to 3 GB per month in the free version
Historically, user privacy and safety have been AdGuard's top priority. It's backed up with 14 years of spotless reputation. It's inherently reflected in AdGuard VPN: we use our own fast and secure protocol and provide you with
unique privacy-focused features
.
We have subscriptions that are billed automatically once a month, year or two years, depending on your choice. If you have opted out of auto-renewing your subscription, you can renew it manually via your
AdGuard account
.
Note: Discounts applied to initial purchases do not apply to their renewals.
Yes! With the help of a DNS server. In AdGuard VPN settings, you can connect to a DNS server that best suits your needs. We recommend using AdGuard DNS: it blocks ads and trackers and protects you from malware.
Although AdGuard VPN can protect you from ads and trackers, it cannot guarantee the same level of filtering as a full-fledged ad blocker.
AdGuard Ad Blocker
removes ads from websites and apps, blocks analytics systems, and warns you if you're about to visit a dangerous website. Plus, it can be used together with AdGuard VPN, which is important for mobile devices.
Just use the same account to purchase another subscription: another month, year, or two years will be added to your current subscription term.
Best server locations differ depending on your reasons for using a VPN. See our suggestions below.
If you need a VPN strictly for anonymity, connect to the country and city closest to you.
For changing your location:
To hide your actual location, choose any other location you want.
Go to the Locations screen in the AdGuard VPN app or extension and select the Fastest option before clicking Connect to enable the VPN.
We offer our customers the possibility of a 100% refund of the purchase price of AdGuard VPN 1-year and 2-year subscriptions purchased from
https://adguard-vpn.com/
. For subscriptions purchased elsewhere, please check the refund policy of that particular reseller. For 1-year and 2-year subscriptions, we have a 30-day money-back guarantee. All refund requests for 1-year and 2-year subscriptions made within 30 days of purchase are granted regardless of the reason.
The corresponding subscription becomes inactive the moment the refund is issued. After 30 days of purchase, all requests are assessed individually, and the refund decision is made at the discretion of AdGuard Software Ltd. We do not grant partial refunds for subscription upgrades and renewals. Each case of a partial refund request is discussed separately between Customer and Support and granted only upon mutual agreement. To get a refund for a 1- or 2-year subscription purchased from the official website
https://adguard-vpn.com/
, please contact our support team:
support@adguard-vpn.com
.
Processing time will depend on the payment method you choose. Usually, it takes 5 to 10 business days.
AdGuard is a privacy-focused company that neither shares nor sells any of your personal data. We are proud to say that we fight for user privacy. We are strongly committed to this principle and strive to be as transparent as possible.
We do not store activity or connection logs of our users.
AdGuard VPN collects minimal information about the use of our services to identify and resolve technical issues. This information cannot be used to link you to any specific activity or behavior. For more information on what data we collect and exactly how we process it, please see our
Privacy Policy
.
You're probably reading this because you've encountered the warning "Maximum number of connections reached".
The paid AdGuard VPN subscription covers up to
10 simultaneous device connections
, while the free version covers only 2.
If you've reached the limit and still need to connect more than 10 devices, you can choose between two options:
Disconnect one of your devices from AdGuard VPN. To do so, press the Disconnect button on the corresponding device.
Yes, you can. There are two operation modes in AdGuard VPN. In General mode, VPN works everywhere except websites added to exclusions. And vice versa, in Selective mode, VPN works nowhere but on websites added to exclusions.
You can add websites to exclusions manually or choose among the lists of popular services. The lists are divided into eight categories: Social networks, Messengers, Video and Music streaming services, Games, Shopping, Search engines, and Work communication tools.
AdGuard VPN از AES-256، امن ترین و سریع ترین الگوریتم رمزگذاری تا به امروز استفاده می کند. این یک رمز بلوکی با یک کلید متقارن است، به این معنی که برای رمزگذاری و رمزگشایی داده ها فقط به یک کلید مخفی نیاز دارد و قبل از رمزگذاری، داده ها را به بلوک ها تقسیم می کند. AES-256 دارای طول کلید 256 بیت است و بر اساس قدرت محاسباتی فعلی عملاً توسط نیروی بی رحمانه شکست ناپذیر است.
درباره رمزگذاری AES-256 بیشتر بدانید
مانند یک نینجا مرور کنید
Windows
Mac
iOS
Android
افزونه مرورگر
Windows
Mac
iOS
Android
افزونه مرورگر
AdGuard VPN برای موبایل
اسکن کنید تا AdGuard VPN را روی دستگاه تلفن همراه خود نصب کنید
AdGuard VPN برای موبایل
اسکن کنید تا AdGuard VPN را روی دستگاه تلفن همراه خود نصب کنید