The release candidate number 2 includes small, but nonetheless important changes. In this update, the issue of dropped connections has been resolved and compatibility with the main AdGuard application has been improved.
We're getting ready to release the first official version of AdGuard VPN for macOS! We made a lot of minor improvements to
VpnLibs
(the AdGuard VPN client), thus, our app has become faster and safer. Also, we added 8 new localizations: Chinese (Simplified and Traditional), English, French, German, Italian, Japanese, Korean, Russian and Spanish.
The first open beta of AdGuard VPN for Mac is released. It features native support for M1, auto-launch at login and auto-connect when starting the app, and import/export of exclusion lists. Besides, we've added the dark theme and fixed the shortcomings of the alpha version.
Note: AdGuard VPN for Mac is currently supported on macOS Catalina and BigSur. Support for earlier versions will be added soon.
Native M1 support
As you may know, some time ago Apple started to sell devices on their architecture with new processors. Older programs wouldn't run on them, AdGuard included. We adapted our app for new Mac devices, so now everything works everywhere.
Complete functionality in the tray menu
Not only can you manage VPN settings in the appropriate section of the app, but also in the tray menu — and it's even more convenient. As you can see in the screenshot, you can connect to a server, select another one, disable VPN, open an exclusion list or settings, write to support or quit the app.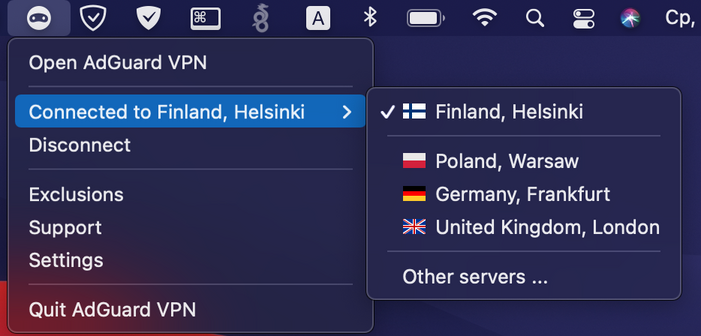 Import/export of exclusion lists
Now, we have added the import/export of exclusion lists. Just a reminder: we have two exclusion lists — for Regular and Selective Modes. It means that AdGuard VPN can work either on all websites except those added to exclusions, or only on websites added to exclusions. Now you can transfer ready lists to another device, share them. and delete all exclusion websites at once, if necessary.
Compatibility with AdGuard ad blocker
In this beta, AdGuard VPN and AdGuard for Mac work seamlessly together. It may not seem like such a big deal, but this is an advantage that should not be underestimated.