This version doesn't contain any changes for most of the users yet it fixes a major mistake and improves the update process of AdGuard VPN for Windows. Read more about it
here
.
Not much time has passed since the first release of AdGuard VPN for Windows, but for some of you it has turned into a period of lingering anticipation. The day has come — and we are happy to present AdGuard VPN for Windows v 1.1. Sure you'll love it!
So what have we done? In addition to fixing minor bugs, identifying the causes of glitches and updating the VPN client, we've made two other important changes. First, AdGuard VPN for Windows now supports QUIC protocol, which will give you better connection quality in non-ideal conditions. And secondly, we've made it easier to search for apps to add them to exceptions, by moving this function to the main settings section.
Now it's even simpler to be an elusive ninja with AdGuard VPN for Windows. Enjoy!
[Enhancement] Windows: QUIC support
We switched to using the HTTP/3 and QUIC protocols to communicate with the server. HTTP/3 and QUIC is the latest, most advanced version of HTTP. Unfortunately, the new protocols won't affect speed when the connection is fine and stable, but their benefits will show up when the connection is worse – for example, on mobile devices or when connecting to public Wi-Fi.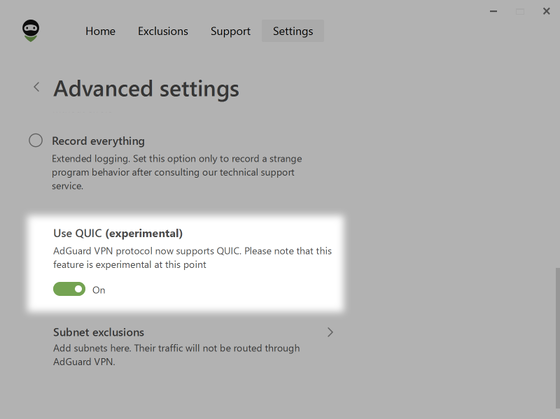 There are several obvious advantages of the new protocols – they won't cause packet retransmissions and Head of Line Blocking (or HoLB) queues, and they will also allow connection migration. Without being too technical, the main advantage is the already mentioned improvement of connection quality in non-ideal conditions.
[Enhancement] Adding apps to the exclusions list has become more user friendly
There was a possibility to exclude apps from tunneling, but technically, it was implemented for "advanced users" only — you had to choose a path to the app.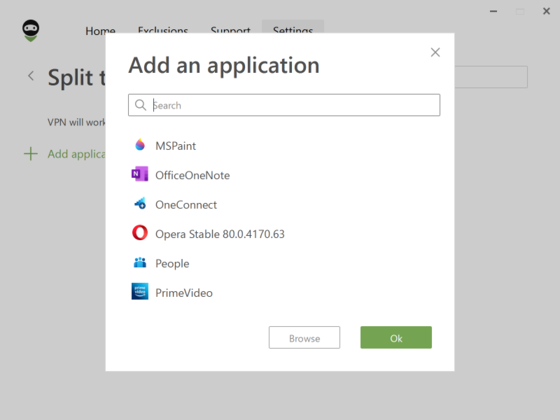 Now there is a separate section that is more user friendly. The option to exclude apps is rather useful and crucial, at least for solving app compatibility problems.
Changelog
[Added] AdGuard VPN update error message when installing another program
[Fixed] Protect all the files in programdata
[Fixed] Locations list is empty after login
[Fixed] The app doesn't update immediately after clicking 'Install update'
[Other] Updated tray menu
AdGuard VPN for Windows lunges into the release stage! Well, we just wanted to make things right… and ended up making them even better 😁
It has not been a cakewalk, but we finally made it. So let us introduce you the full-fledged desktop VPN app with multiple-language (10!) support and a bunch of advanced settings. What a day! 🎉